Hawks volleyball preparing for zones
By Tyler Lowey, Times Reporter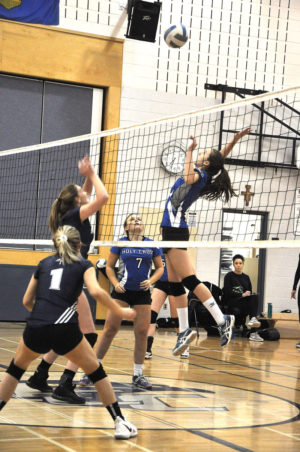 Momentum can be a powerful force in sports, and the Holy Cross Collegiate Hawks junior varsity girls volleyball program appears to be gathering steam.
After ripping through the Foothills Athletic Council (FAC) with a perfect 8-0 record, the Hawks hosted and thrashed the Strathcona-Tweedsmuir School Spartans 3-0 (25-20, 25-19, 25-16) at Holy Cross Collegiate gym.
"We took a huge step backwards in the past three weeks. Outside of league play, we did not perform well in tournaments," said Hawks Head Coach Taleah Ross. "It was great to see the girls come out tonight crushing balls and passing really well. I think they look ready for the finals."
Since capturing their host tournament in early October, the Hawks have been on a rollercoaster that peaked with a silver medal from a tournament in Stettler Oct. 14, and bottomed out by being eliminated by the crosstown competition at the recent Spartans annual tournament.
Monday's result was encouraging, and the Hawks will quickly move from the semifinals to the finals, which took place Nov. 8 in Okotoks. After the win, the Hawks learned that they would be taking on the Foothills Composite High School Falcons. It should be a tightly contested final. The last time these two teams hooked up, the Hawks edged the Falcons in a five-set thriller.
Of course, the league final is just one step along the way to the Hawks' ultimate goal this season, which is making it to the Alberta School's Athletics Association provincial tournament.
Regardless of the FAC final outcome, the Hawks will take part in the South Central Zone tournament Nov. 17 and 18 at St. Joseph's Collegiate in Brooks.
On the boys side, the Hawks have continued their strong tournament play Nov. 3 and 4 in Rosemary.
Last weekend, the Hawks fell one set shy from reaching another final, as they fell in the semi to the host Rosemary Rockets 2-1 (25-17, 12-25, 10-15).
The Hawks rolled through the round robin slate with a 2-1-1 record.
Up next, the Hawks need to win their way into the South Central Zone tournament by winning a play-in game against an opponent that has yet to be determined. That game goes Nov. 14 in Three Hills. If they manage to do so, they would head to zones Nov. 18 and 19 in Three Hills.